Nargun and the Lakes Edition
Etienne's Gold Coast Tigers recount of the race: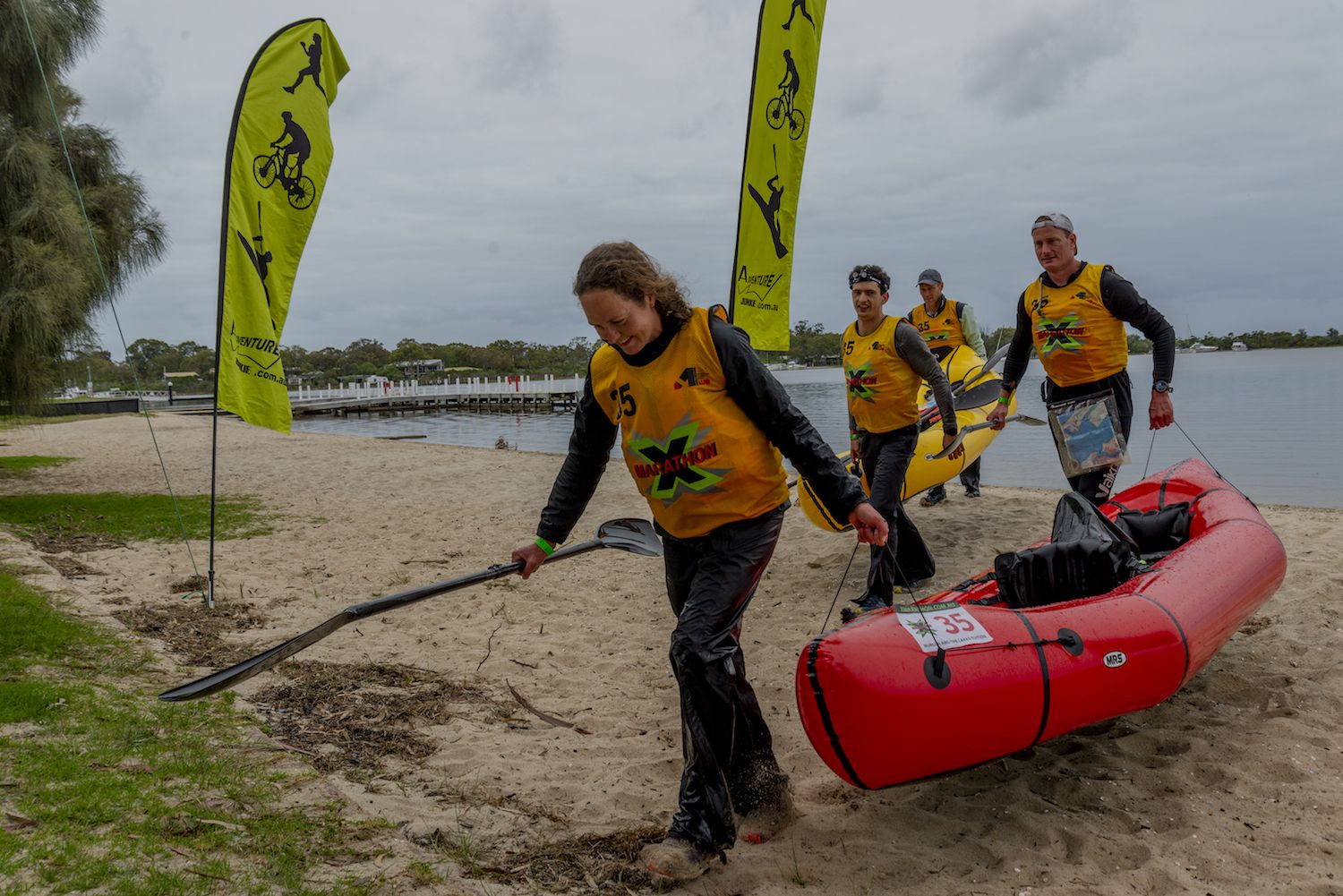 We were all meant to race X-Marathon in different teams. But with some borders shut and teammates unable to come. We formed a new team of complete strangers: David, Ed, Narell and me (Etienne). We raced as team Gold Coast Tigers, a strange name considering none of us are from the Gold Coast! We used the prologue to test out which pairs would work best in the packrafts, got a great dinner (thanks to Narelle's mum) and the last night sleep.
On race morning we quickly devised a plan for the first rogaine, setting off in the dark. A couple of trails threw us off as they didn't perfectly match the map (Serge warned us about that in the race briefing) but overall we didn't lose much time.
We set off on the first MTB in 3rd place and launched at a comfortable pace. The nav was relatively straightforward and we just focused on grinding the hills often coming in contact with the teams in the lead pack at checkpoints. We had a couple of fun descents and creek crossings.
We picked up our rafts and set off on a quick water crossing of the Mitchell river with the MTB attached to the boat. We were happy to see that the water was flowing well: the ~22km of packrafting were going to be fun and fast.
After TA1 where we dropped off the bikes, we had one checkpoint to get on land at Den of Nargun. We followed a narrow gorge upstream on a walking path up to a loud and magnificent waterfall.
We quickly made our way back to the rafts and launched off, with the first rapid coming up straight away. Ed and I ended up in the water, as we hit a standing wave going sideways on the 1st drop. We flipped the boat and quickly got back in, no drama! The rest of the rafting section went smoothly for us, it was always interesting to stay in the fastest current and avoid some strong eddies.
We got to TA2 in 2nd place after about 3h of paddling but were quickly joined by the all-girl team BUFFalos that we had been tagging all day. That quick progress already put us 3-4h ahead of the best forecasted times and we were keen to get the bike section done quickly to start the rogaine in daylight. As we criss-crossed the roads we were hit either with a headwind or a crosswind we did our best to draft and offer protection to those who needed a boost.
We arrived in TA3/4 with a few hours of daylight remaining and ran a slow shuffle while we were on the tracks and did a good amount of bushbashing to connect some tracks. We hit the coast right at sunset for checkpoint number 38 which didn't have a precise location on the map, we were just told it was somewhere along a 3km stretch of coastline. There we decided to change route and come back on a longer but hopefully faster way as the "RPC" tracks had so far proven unreliable. That paid off as we caught up to team BUFFalos just before the next checkpoint. Kudos to David for navigating pretty flawlessly on such a flat and featureless terrain, we arrived at TA in 1st position.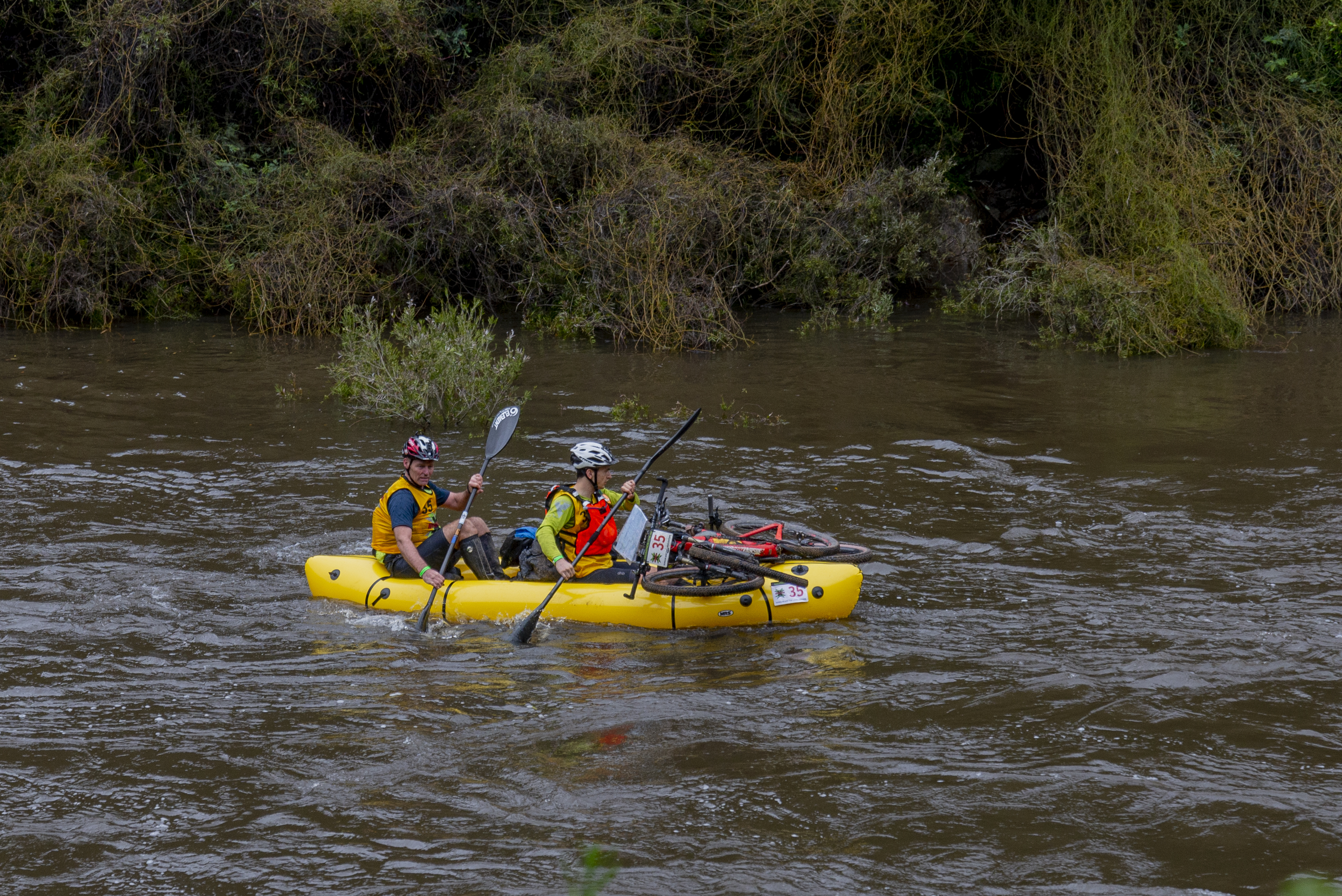 We spent a bit too much time at TA and decided to walk as much as possible before inflating the packrafts, there we saw a Wombat (a first for me, as my 4y in Oz spent mostly in SEQ weren't exactly prime wombat territory). We met some very chatty campers who came over to us as we inflated our rafts at midnight to cross a fairly choppy Lake Victoria. We crossed in the dark, following a bearing as we couldn't see land until we got really close to it. Luckily we landed exactly at the right spot, nice work team! There we split up, Ed and I were to trek and get 4 checkpoints on land while Narelle and Dave were paddling the shallow channels of lake Reeve.
Ed and I could definitely feel the weight of the packrafting gear on our tired bodies and did our best to keep walking at a brisk pace. The nav was tricky on this leg, with checkpoint 45 costing us a few minutes of extra bushbashing in dense scrub and checkpoint 50 costing us a full 2h of search in a bog. Realizing that the checkpoint wasn't at the right location (in relation to a track junction on the map), I set off to zig-zag the swamp and eventually found it, definitely not where we had been searching for the past 2 hours.
We had definitely blown way past our time estimates at that point and thought we would meet 2 grumpy teammates wondering what took us so long. It turned out they had a few misadventures as well and had only arrived 20min prior. Happy to get off our feet, we set off on our final paddle via checkpoint 51.
Team BUFFalos had departed about 20min ahead of us and we thought we would be coming in 2nd. I was happy with the way we raced, we showed some strong navigation, and some good teamwork when things got harder. As we crossed the finish line, we learnt we had won the race as the other team had missed checkpoints (the 2h in that bog was time well spent after all)! Good work team, pizza and sausage rolls to celebrate the win!