TIGER ADVENTURE CUBS – Race Report Xmarathon March 2016.
With 3 Tiger Adventure Cubs having never done an adventure race before, and myself doing a couple of 24 hour races with my other team mates navigating this is bound to be an extraordinary adventure. Well let's start with receiving our maps at registration. OMG!!! What have we got ourselves in for. Looking at the scales, 1:40000 what the hell was that… After a couple a deep breathes all was not forgotten. It was now time to start putting into practice what we had been training for. It's not the norm but I decided that we were going to split the navigation between the team, so everyone could have a rest, and everyone would have a go at leading the team home. I knew there were 42 cp's so each person would get 10 or 11 cp's. We all caught up one evening for a discussion on who was going to navigate when and where in order to give everyone a go and improve there navigation skills. This was all leading to team building for our race ahead. So I organised the with the team before a couple of weeks before as to who was navigating first, second, etc. that way it would be fair and no one knew on which leg or legs they were going to navigate, weather it was hard or easy. So the four Tiger Adventure Cubs shared navigational responsibilities during the race. We were in teams of two, Liz and Kathryn, Kellie and I, with one Cub navigating and the second person being 'back-up', for support if and when needed. As we adapted during the race, roles were shared and exchanged.
Once I had marked who was doing what, everyone was plotting their lives away! Lots of questions were asked by the Cubs, and whilst making sure the Cubs were all good and happy with their routes and choices. I was trying to plot my section as well, and failed... As I only plotted from cp to cp without any TA's included in my plotting and only realising this before the start of the race once we had contacted our maps! Also TA 6 had disappeared and wasn't on our maps! I kept asking all the Cubs who's got TA6 but everyone told me no they didn't. No worries we would make a plan on route, if my brain wasn't fried by then. After plotting our routes it was off to bed for the Cubs… as our plan was to just keep on going through he race with no sleep.
At the crack of dawn we are all up and getting ready. The Tiger Cubs are telling me to just relax as I'm eager to get going, so we can have everything sorted and ready for our competency check and then we can relax.
Consulting the master Serge as to why there was no TA6 on our maps!!! He kindly shows me where it is….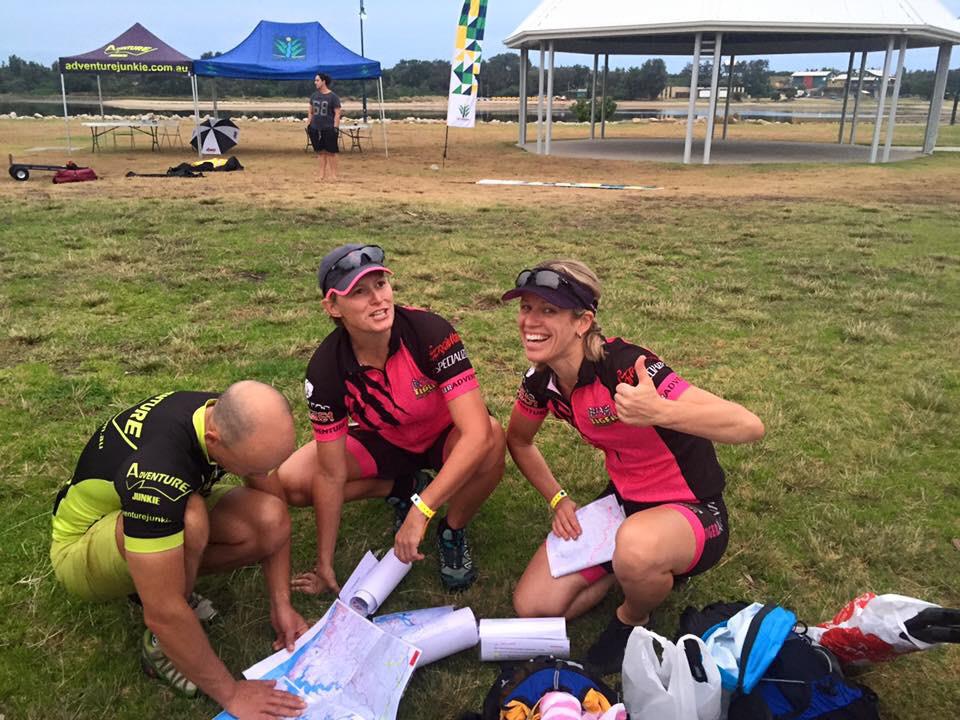 Mmmm great start to our race team leader!!
All ready for the start of our biggest adventure ever. Whoo hoo go Tiger Adventure Cubs. I did Xmarathon 2014 with Alex Lark and we had an awesome towing system, he basically towed me most of the way lol. So we decided that it was a great idea to all have a towing system on our bikes so that we could help each other where we could…. WELL there was no towing anywhere as we couldn't ride up the fast flowing course that Serge and Maria had said it was…. LOL liars!!!
Tiger Adventure Cubs from left - Liz, Darlene, Kellie, Kathryn.
Waiting in our wet kit for the race to start..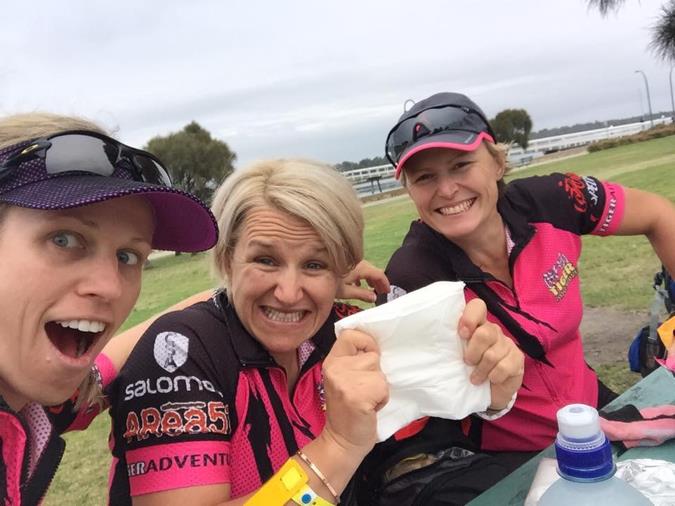 Liz navigated us through the 1st section…. CP1 to TA2
We were lucky to have two dolphins swim slowly past us about 15/20min in the paddle.
On the MTBO section… Kellie and I went for the following points E,D,F and G. Kathryn and Liz went for C,B and A. We all left the start of the MTBO and said we would meet back at the start, not reliasing that there was a finish on the MTBO section and it was no where near the start... Kellie and I got E,D, and F easily and we were so excited as we thought we got G but in fact it was C! We also found the finish to the MTBO section and tagged in. After we chatted to team Why Not we relized we were all supposed to be at the finish and not the start of the MTBO. So we raced back to the start to collect Kathryn and Liz who collected A,B and C, (do we get double points for getting checkpoint C twice?) and then all ride back to the finish and all tag out again together, and carry on. In hindsight we should have skipped the whole MTBO section.
"Liz" I was happy with my navigation. We found all of my checkpoints and only had to backtrack once when I chose to take a track that didn't end up connecting.. My interpretation of a couple of the clues also saved our team and some other teams near us a lot of time, possibly hours all up as they were looking in the wrong place; the devil was in the detail of the wording and I like analyzing text.
I was surprised at how achievable it was to stay awake and do the intense physical activity for 44 hours straight! No Doz must work..
That course was tough, especially for someone whose biggest weaknesses is climbing and cycling. Aside from my falls off the bike, my big challenge was the element of keeping up with three others who are clearly a lot faster and more skilled on the bike. It was a challenge to my confidence and I had to fight the awful thoughts about keeping back the team. I guess that's the team element!
Overall, what a way to spend the weekend! I'll likely do more adventure racing, although I might need to find a team who has a pace range more like mine... And learn to ride my bike! When I was hallucinating, I saw a bear cub, and a deer fawn on the beach. I heard whispering in the bushes and saw people and animals that weren't there... But I'm so glad they were there in my head because it was lonely, especially in the dark. I can't remember what else I saw.

Kellie navigated us through the 2nd section….TA2 to CP18
"Kellie" I thought the race location was excellent, weather was perfect. The bike leg was too long and I think this was due to the challenging elevations and tracks conditions. Would have liked to have done the Rogaine course, but due to the challenge on the bike this was not reached. Disappointed about not being able to take on the second paddle also. It felt more like a mountain bike challenge to our team than anything else as we spent 30hrs + on the bike. Really pumped that we actually finished and that we were able to make it across the line for our first X-Marathon in one piece.
Kathryn navigated us through the 3rd section…. CP18 to CP27
"Kathryn" The sun rises on Sunday morning and four Tiger Adventure Cubs are halfway through the second MTB leg. It is 7.30am, we are at checkpoint 18. We have been on the MTB since 2am. The mist of the previous night is clearing, we have many checkpoints under our belt and morale is high.
We have been racing for 19.5 hours. As I get mentally ready to navigate, Darlene's words the previous night repeat in my head: 'This race will either make you or break you'. I repeat to myself (silently so my team members don't think I've lost the plot), 'It's going to make me, it's going to make me, it's going to make me...' I repeated that many times during the race; especially towards the end when I was seeing things that weren't really there!
It was my role to navigate for checkpoints 19 to 27. Once Kellie successfully got us to checkpoint 18, it was 7.30am Sunday morning and my navigational shift commenced! The route from 18 to 19 was long (16km), hilly and I have never pushed a bike up so many hills in my life! The downhill free-flowing sections were bliss. We arrived at Checkpoint 19 at 11am, however, after 4.5hrs of riding to get there; we couldn't find the checkpoint! We had run out of water and food at this stage so we made a tactical decision to keep moving. We bumped into Tiger Adventure Munch Express at the bottom of the summit and Trevor and Gus assured us it was a hard course and that we were doing well!
We got checkpoints 20, 21 and 22, but decide to bypass 23 and 24 and make a bee line for TA3 where food and water awaited four thirsty Cubs. Dehydration or sunstroke was not on our 'to-do' list. We had left TA2 at 2am, with enough water and food for an 8 hour MTB leg….but we were on the second MTB leg for 15 hours! We were looking forward to sitting down in the paddle leg (it become apparent during Sunday morning that we would miss the cut off for the bush rogaine), but we just missed the cut off for the paddle too (we had 11 mins to get ready after rolling into TA3). We were told we could do the last MTB leg then the last hike. 'Hmmm', we thought, 'you want us to get back on the bike?!?!' While we grappled with the thought of getting back on the MTB straight away, the water, food and words of encouragement from Serge, the volunteers, Miss Adventure and Tiger Adventure team Munch Express at TA3 was enough to get all four Cubs back on the bike to start the last two legs of the race. We were determined to finish the race. This race was going to make us, not break us!
Kellie who is our strongest rider on the bike and hills, was swearing and cursing Serge about the course. When we got into TA3 this was us about to throttle Serge…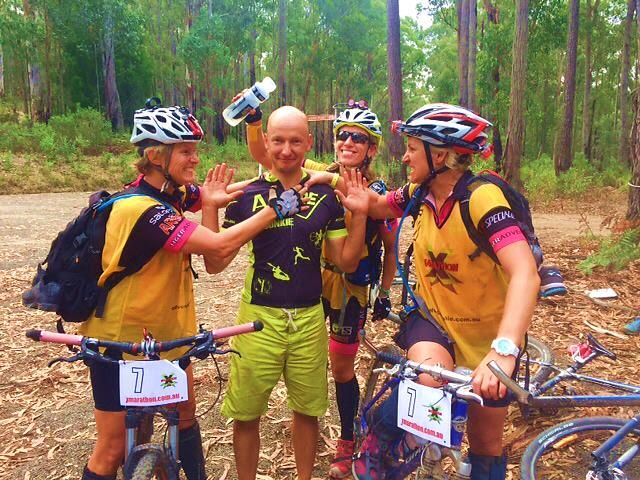 I (Darlene) navigated us through the last section...being CP27 to the end.
Well I didn't have to navigate from CP27 until TA3 to the end. We left TA3 in high spirits at 6:30pm as Serge had promised us, that the last section was much flatter and very fast, and only about 45km (excluding the ride on the tar to the start which funnily he didn't mention to us)!!! From TA3 we hit the tar, aaaah what bliss…. Our butts and other things were busy recovering. We finally got to CP32 around 21:55 it's going to be another long ride.. Jeeey we got that CP easily now off to CP33. Where the F$@*+% was CP33, someone stole it! Who would steal it out in the middle of nowhere…. After going up and down along the fence line quite a few times, and even walking past the end of the fence we couldn't find it. We spent nearly 2 hours looking for it. We decided Serge stuck the CP in the wrong place according to our map and we were carrying on. Oh man, now the A1 is stopping us to get to the next CP34, after trying for ages to find a way under the A1, we decided we didn't care and stuff Serge we were going to ride along the A1 to CP34. And maybe if we could go as fast as we could they wouldn't notice us on the road.. We got off at the old Orbost extension and back on track we were. Going through the soft sand fast, I crashed as I had a carrier on my bike with my back pack, and the weight shifts a lot which I wasn't used to. Never mind up and off we go again. Jeeey at around 3am we got CP34 ticked off. Then I asked Kathryn and Liz can I have the maps for TA6 please. Their answer was, we left them at TA3 in the box…, because they had done their navigating and decided they didn't need them anymore!!! Great stuff, oh well how hard can it be to find the beach and lake tyres. Luckily for us we met Adam for team Why Not again and asked to please have a look at his map so we had an idea of where we were going, and then they were off. As we got closer we heard the sea and though yeah baby we nearly there, luckily for us again Team Why Not had stopped for a while, so we went with them to the beach, and then they were off again. We followed their lights into TA6.. Our night mare TA which had been a problem right from the very start LOL. While we were pushing out bikes along the beach, I saw bright green fluorescent glowing stuff in one of the waves, and said to Kathryn look at the glowing stuff, it was awesome, no I wasn't hallucinating.
We got into TA6 around 5:20am awesome work Cubs, only one more leg to go and everyone was grumpy, so we ate and packed our bikes away, and left TA6 around 6:15am. I asked the team if they wanted to hit the road or beach, and we all decided it was the beach. So off to CP35. The beach walk from TA6 to CP35 was great, after CP35 we were pretty much over the sand. Everyone took their shoes off, and walked in the water a bit. About 2km from the end Kellie and I saw our hubbies they were coming to welcome us home, and kindly asked us why we were going so slow…. Clearly they had no idea what we had just done :-)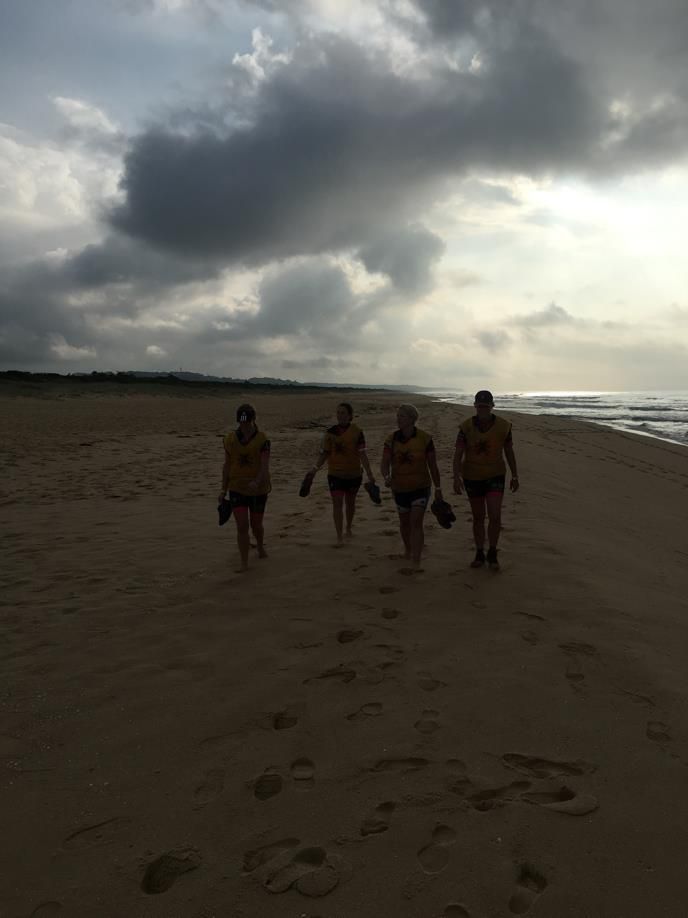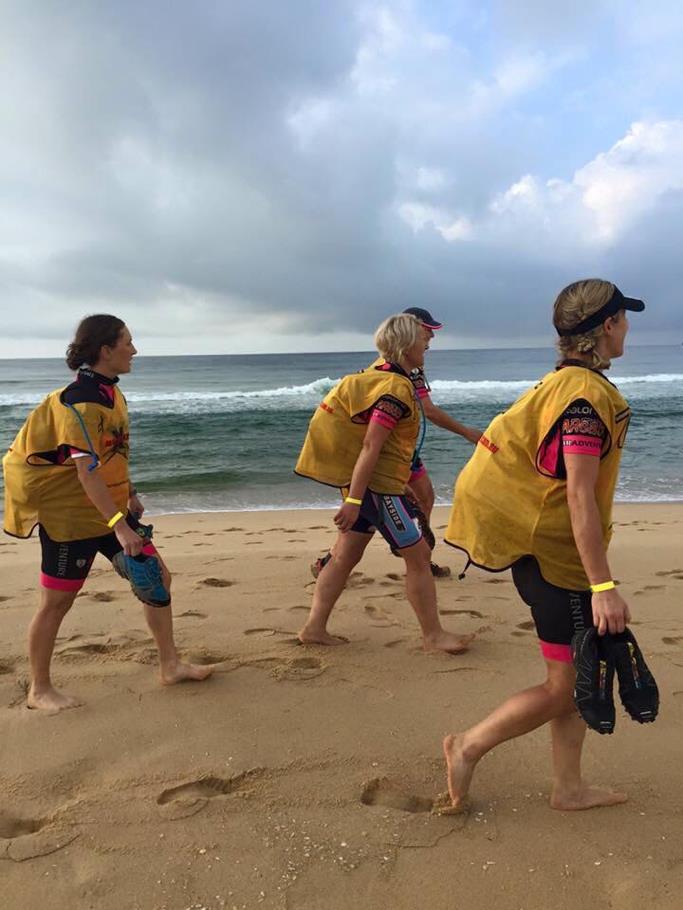 We finally finished the longest adventure of our lives at about 9:30am. Whoo hoo we had done more than 238km as our tracker died before us… and a total of 44hours. We were the 1st all female team in. 7 out of the 19 teams pulled out during the race I believe.
The FINISH….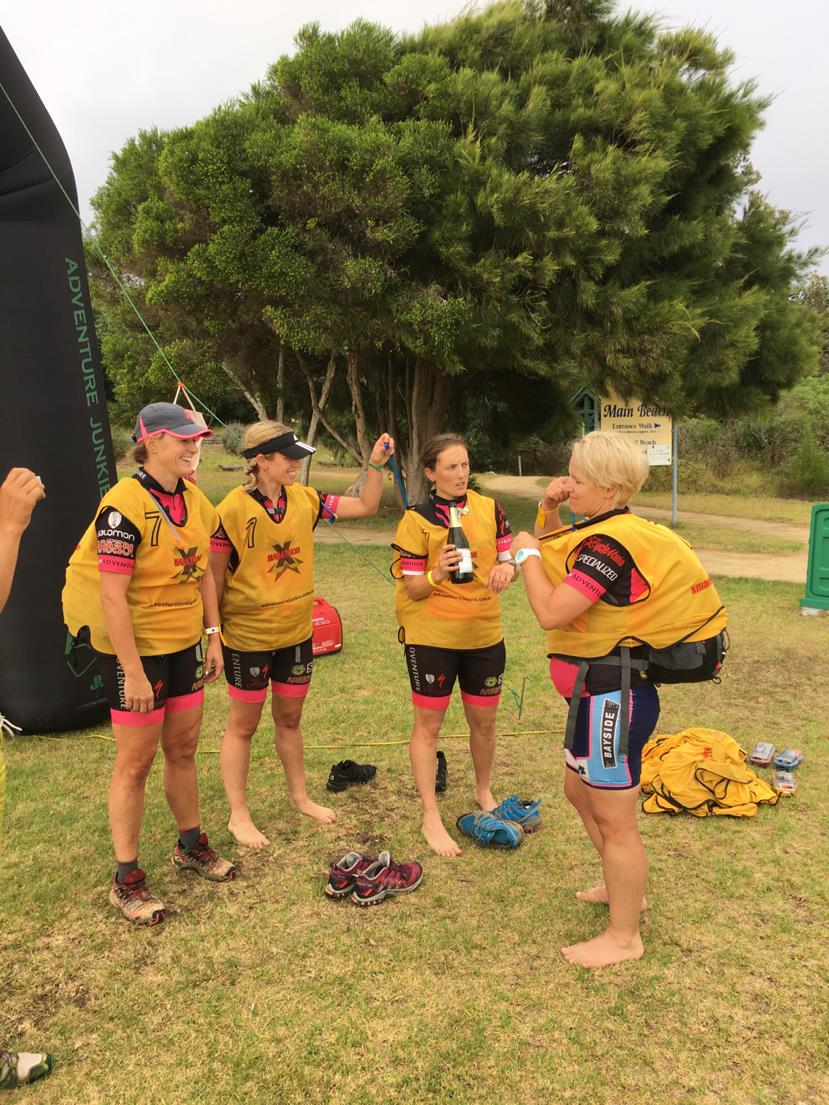 A big thank you to Maria and Serge for putting on an amazing adventure race, and a special BIG thanks to all the volunteers, surf club, and East Gippsland Shire Council who made the race possible. I'm very proud of the Tiger Adventure Cubs on completing their first huge adventure race, especially Liz as she didn't even complain once, and crashed 5 times on the bike, she just put her head down and kept pushing on, that's one tough chick! Thanks to my team who had to put up with me the whole time, over the last 6months, you ladies rock….
Will we be back??
"Kellie" – Immediately after the race I said I wouldn't go again. I've had time to reflect…. I'll be back!!!
"Liz" – Yes, with a team that's more my pace!!!
"Kathryn" – Hell yes, I've entered Geo and XPD!!!
"Darlene" – What kind of a question is that, of course!!! Who else can I con into an adventure race .